UV Curing Resin for Inkjet Printing
"Neojet"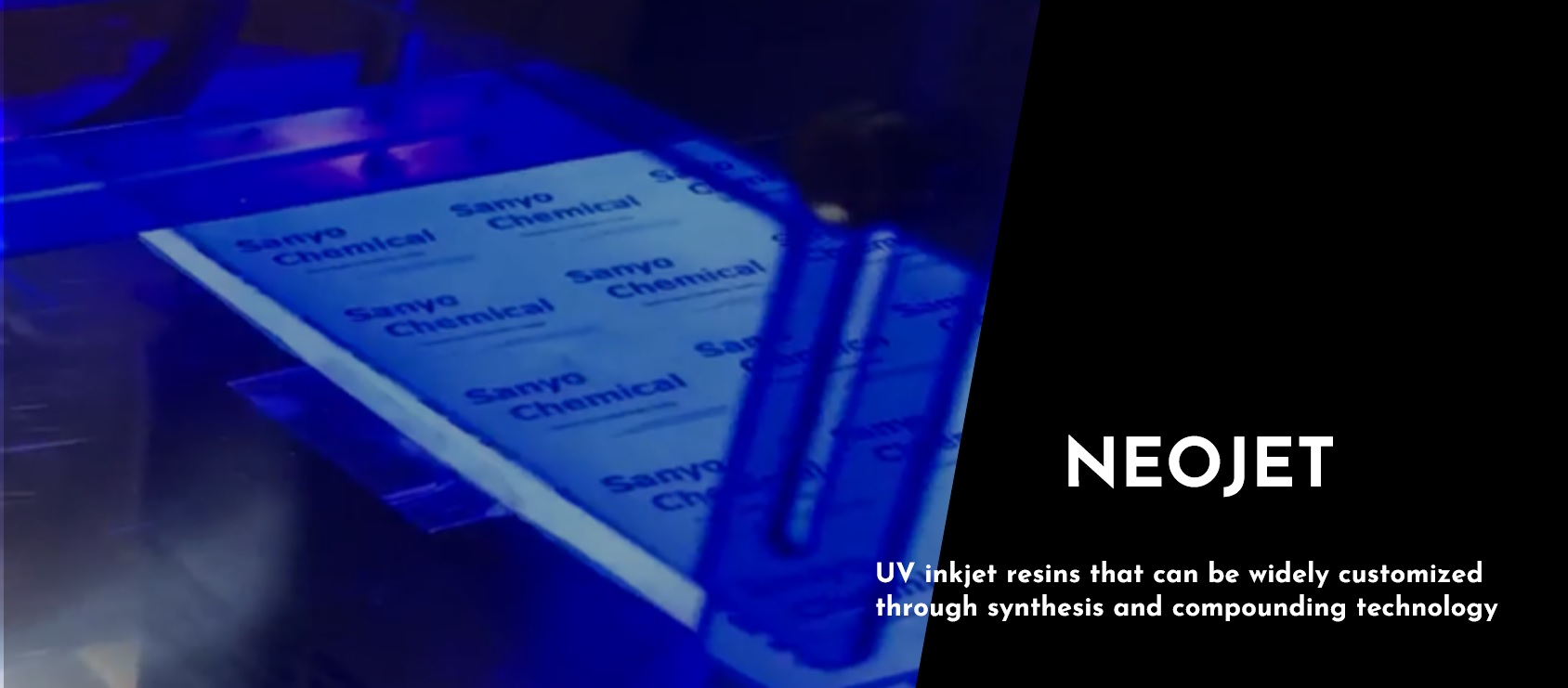 UV Inkjet Resin that can be Widely Customized through Synthesis and Compounding Technology
Sanyo Chemical's "Neojet" products are UV-curable Resins for Inkjet Printing
1
Ink Ejection Performance
Superior inkjet dischargability
Curable by UV-LED for improved productivity and energy saving
UV curable resin for inkjet printing that can be used for various materials such as olefin base materials, glass, and metal parts.
UV curable resin for inkjet printing with high toughness (hard and stretchable) to follow deformation on flexible substrates.
We will respond to our customers' needs to the maximum extent possible with our wide range of UV curable resin design technology backed by our synthesis and compounding technologies.
Sanyo Chemical's UV-curable Resins for Inkjet Printing Introduction Video (approx. 2 min.)
"Neojet" Products Main Lineup
Type
Plastic adhesion
Glass, metal adhesion
High toughness
Neojet grades
PAD
GMAD
FL
Properties
Viscosity (mPa・s)
5
17
17
After cured
Mechanical Characteristics
Tensile modulus (MPa)
1850
1970
1800
Elongation at break (%)
5
9
75
Tg (℃)
132
124
77
Optical Properties
Total light transmittance (%)
90
90
90
Haze %
0.5
0.4
0.6
Refractive index nd25
1.53
1.53
1.53
Substrate Adhesion
Easy-adhesion PET
✔
✔
✔
PP
✔
PC
✔
✔
✔
TAC
✔
✔
✔
Glass
✔
✔
Copper
✔
Test condition
Viscosity: Type E viscometer 25°C
Curing conditions: LED385, 2000 mJ/cm2, 1000 mW/cm2 Film thickness after curing: 10 μm
Tensile modulus, elongation: Measured by autograph in accordance with JIS K6251. (Dumbbell No.3 shape)
Tg: Measured with Reogel E4000 by making strips 5mm wide and 1mm thick
Adhesion: Film thickness 10 μm, board test
Features of "Neojet"
Inkjet Discharge
It is possible to control the stability of inkjet ejection by adjusting the viscosity and other liquid properties of the UV curable resin.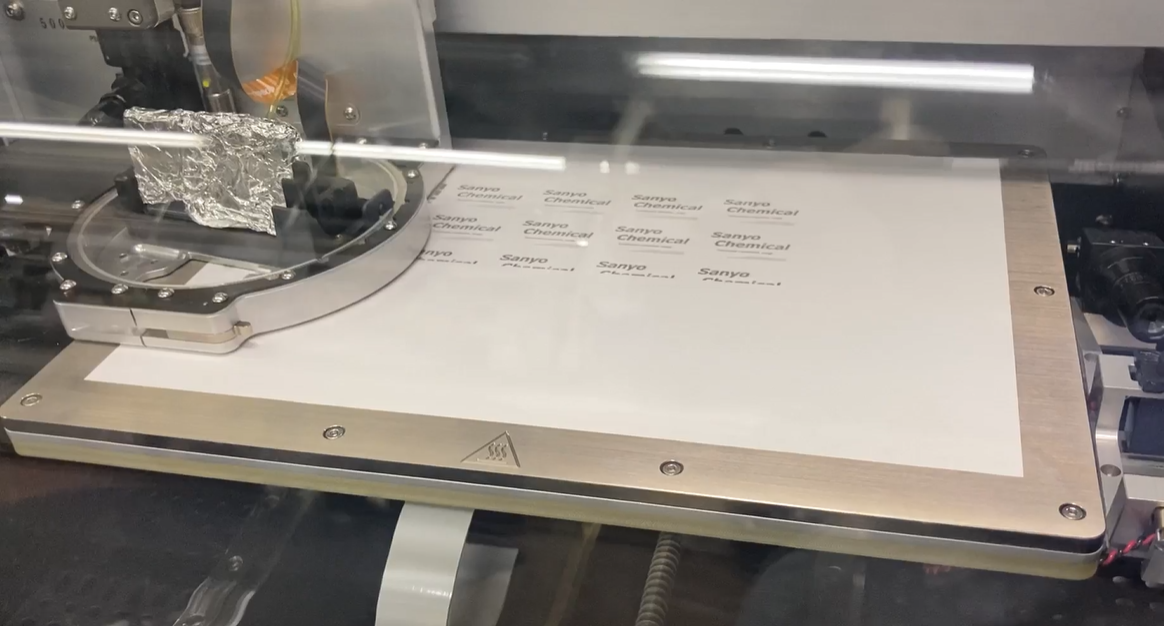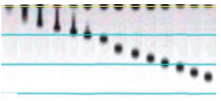 Control of dispensing stability is possible by adjusting liquid properties.
UV-LED Curability
"Neojet" products are also compatible with LED light sources.
Curing with an LED light source not only saves energy, but also reduces damage to PP and PE films that are damaged by heat during UV irradiation with ordinary high-pressure mercury lamps and metal halide lamps.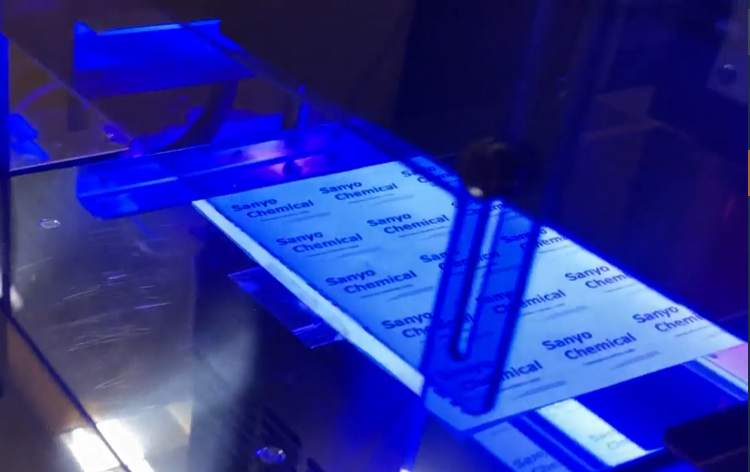 Compatible with UV-LED curing
Good UV curability even under atmospheric conditions
High Adhesion
UV Resin Adhesion Issues
When UV curable resins are applied to base materials such as glass and various films and irradiated with UV light to form a cured film, curing shrinkage occurs and stress inside the film causes the cured film to peel off from the base material. In particular, non-polar base materials such as polyolefin (PP, PE) tend to have low affinity with UV curable resins and poor adhesion.

To address this issue, we have formulated a compound with a high affinity for base materials that we have uniquely designed, and by further reducing curing shrinkage, we have achieved adhesion to non-polar polyolefin base materials, glass, and metals, respectively.
"Neojet PAD" (Olefin Adhesion)
This grade has high adhesion to non-polar base materials such as polyolefins and exhibits high adhesion by bringing its SP value close to that of polyolefins. This product is suitable for primers and coating materials for various films.
"Neojet GMAD" (Glass Adhesion)
This grade has good adhesion to glass and metals and is suitable for protective and insulating films for metal wiring.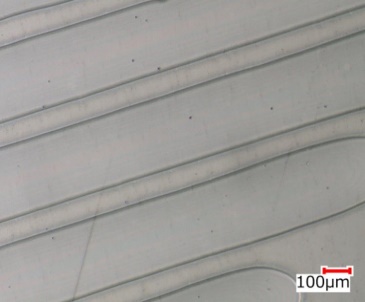 Neojet GMAD
Good adhesion to glass and metals
High Toughness ("Neojet FL")
Challenges in Achieving both Hardness and Elongation
In recent years, UV curable resins that combine hardness (hardness and elastic modulus) and elongation have been required for various flexible electronic materials, foldable smartphones, and decorative films for automobile interiors, but it has been difficult to satisfy these requirements with conventional UV curable resins.
"Neojet FL" Products
Our tough UV curable resin "Neojet FL" is a grade that combines hardness and elongation and has excellent molding processability due to its hardness and resistance to cracking after curing.
They are suitable for optical films and protective materials for various electronic components.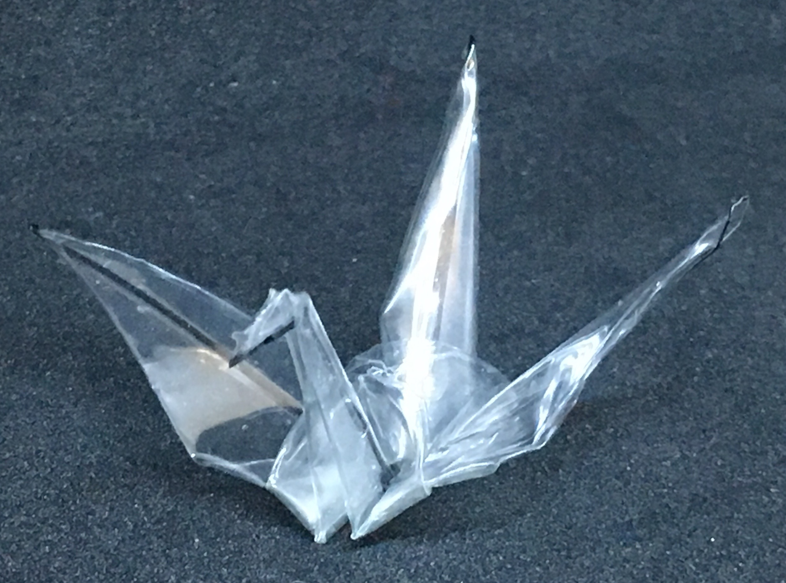 Origami cranes created with sheet cured material using Neojet FL
High flexibility as well as having a high modulus of elasticity (high toughness).

Has the ability to follow deformation with flexible substrates.
Related Information
Related Products

This page has been prepared solely for information purposes.
Sanyo Chemical Industries, Ltd. extends no warranties and makes no representations as to the accuracy or completeness of the information contained herein, and assumes no responsibility regarding the suitability of this information for any intended purposes or for any consequences of using this information.

Any product information in this brochure is without obligation and commitment, and is subject to change at any time without prior notice.

Consequently anyone acting on information contained in this brochure does so entirely at his/her own risk.In particular, final determination of suitability of any material described in this brochure, including patent liability for intended applications, is the sole responsibility of the user. Such materials may present unknown health hazards and should be used with caution. Although certain hazards may be described in this brochure, Sanyo Chemical Industries, Ltd. cannot guarantee that these are the only hazards that exist