UV Curing Resin for Imprinting (Mold Release, Adhesion)
"SANRAD"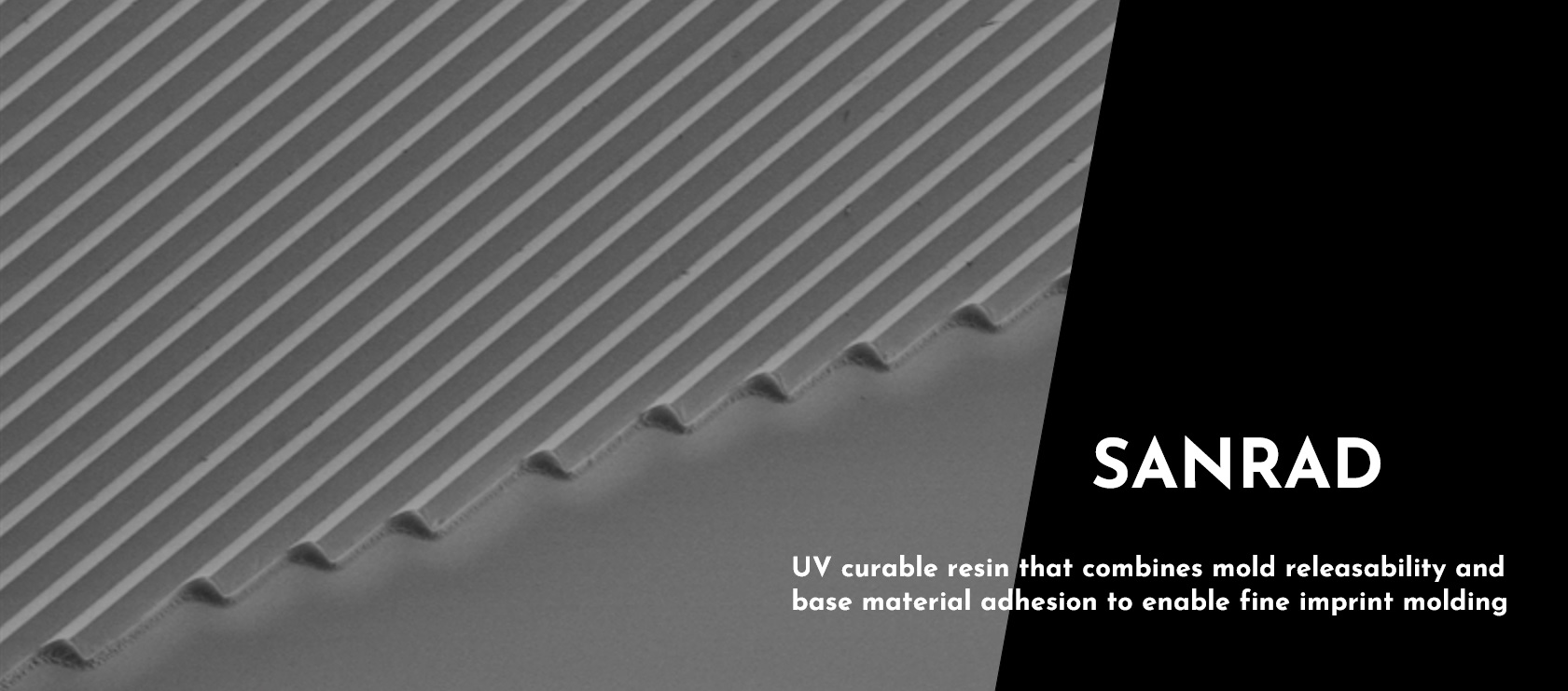 UV Curing Resin that Combines Mold Releasability and Base Material Adhesion to Enable Fine Imprint Molding
What is Great about Sanyo Chemical's UV-curable Resin for Imprinting "SANRAD"
1
UV Curable Resin for Nanoimprinting with High Mold Release Property Enables Transfer of Complex and Fine Patterns
Our UV curable resin system "SANRAD" products are formulated with a special mold release agent uniquely designed by utilizing our specialty surfactant technology, which provides high mold release performance against molds.
Benefit from high mold release
High-precision transcription is possible even for special shapes and fine patterns.
Resin does not remain in the mold, reducing wear and preventing deterioration of the mold.
When the resin is UV cured and released from the mold, it is also less likely to be subjected to stress and thus less likely to chip or crack in shape.
Example of Imprint Film Molding
UV curable resin compatible with various molds and capable of transferring fine patterns.

Mechanism of Action of High Releasability
Our proprietary phosphorus-based special mold release agent is designed to selectively collect on the mold side, resulting in high mold releasability, but with high adhesion to the base film. Furthermore, the resulting UV-cured resin moldings are characterized by long-term stability in both shape and quality.
Selective Orientation of Mold-releasing Components on UV-cured Resin Surfaces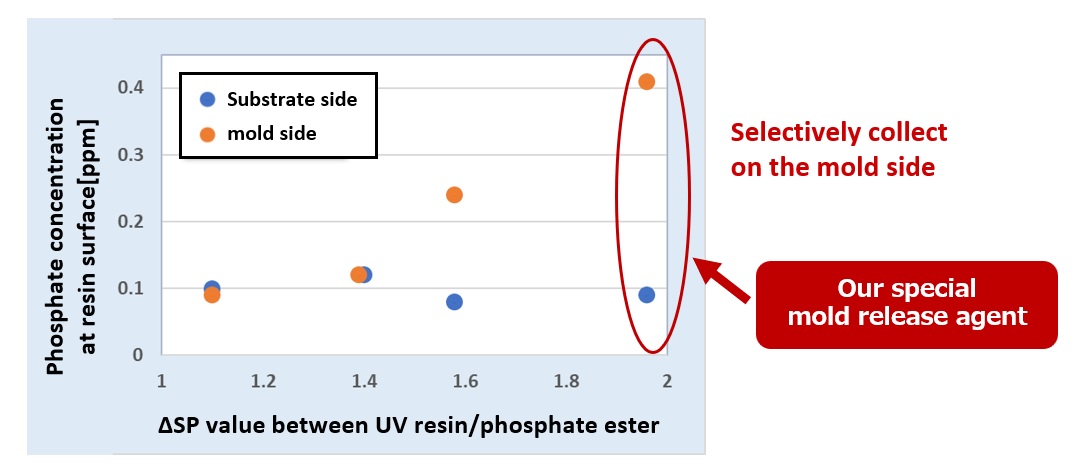 Sanyo Chemical's UV Curable Resin for Imprinting Introduction Video (Approx. 2 min.)
About UV Curable Imprint Transfer Method
The imprint transfer method is a method of creating a pattern on the surface of a material by pressing a mold with a microscopic pattern on its surface onto a resin and then cured. The imprint method is attracting attention in various fields such as semiconductors, recording media, biotechnology, and optical materials, because it is a simple process that enables large-area microfabrication with excellent processing accuracy.
In the case of UV cured imprint transfer, UV cured resin is applied to a base film such as PET film, pressed against a mold, UV irradiated and cured, and then released to produce a film with a fine pattern.
Advantages of UV-cured Imprint Transfer
Compared to the thermal imprinting method, it does not require high heat, making it applicable to heat-sensitive materials. Can be used for fine patterns and can be manufactured in a short time, making it superior in energy efficiency.
Requirements for the Main UV Resins for Imprinting
Ability to enter the mold in liquid state
Ability to be released from the mold
Adhesion to base film
Dimensional stability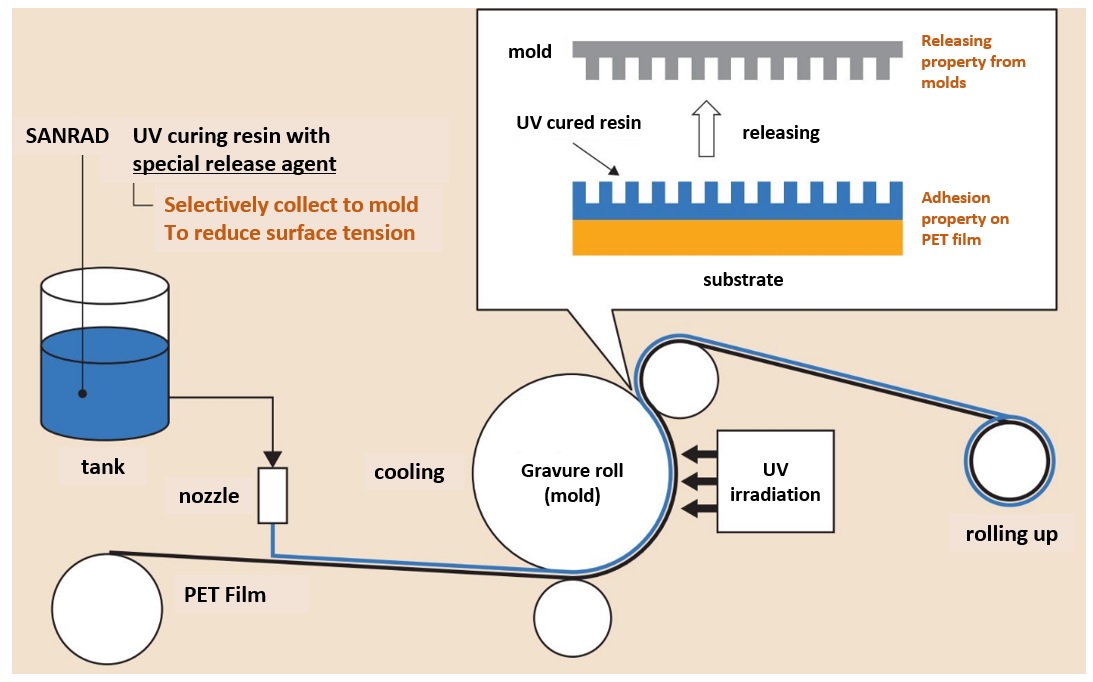 UV Curable Resin for Nanoimprinting with High Scratch Resistance
Optical films are required to have not only optical characteristics as optical components and processability such as transferability, but also abrasion resistance (scratch recovery), such as the ability to quickly recover from contact with other materials in the manufacturing process or from scratches on the final product.
In the "SANRAD" products, we have also developed a grade that exhibits high scratch recovery through elastic recovery. By nanodispersing a special monomer in the resin, the resin itself has high flexibility, but it also has high resilience, and has the ability to recover from scratches. As shown in the figure, films molded using this resin have excellent scratch resistance (scratch recovery), making it an optical film that contributes to improved yield and product reliability during manufacturing.
High Recoverability of Scratches after Transfer, Contributing to Yield Improvement

Electron Microscope Images before and after Abrasion Resistance Test

About the Main Lineup of the "SANRAD" Products
Our "SANRAD" products offer a diverse lineup of products with a variety of performance options to meet your application and needs.

In addition to being able to control the refractive index of light, which is an important factor in optical properties, the "SANRAD" products have the unique advantage of bringing out a variety of performance features that add value to optical films, including mechanical properties such as flexibility toughness, and reliability such as light resistance and color/shape durability.
Type

Standard

Excellent ductility, ideal for molds with complex shapes
Excellent repairability
SANRAD products
RM
TS-01
TS-02
FM-01
TF-01
Product Properties
Viscosity
(mPa・s)
4500
2200
4200
790
500
After cured
Mechanical properties
Tensile modulus (MPa)
850
2000
1200
480
80
Elongation at break (%)
22
22
45
8
2
Tg (℃)
53
57
52
49
40
Optical properties
Total light transmittance (%)
91
91
90
92
91
Haze %
0.3
0.3
0.2
0.2
0.3
Refractive index nd25
1.55
1.56
1.57
1.51
1.50
Adhesion on substrates
Easy-adhesion PET
✔
✔
✔
✔
✔
PC
✔
PMMA
✔
✔
Cured material creation conditions: D bulb 1000mJ (320mW/cm2)
Tensile modulus, elongation: film thickness 200 μm, measured by autograph in accordance with JIS K6251 (dumbbell type 3)
Tg: 5 mm wide and 1 mm thick strips, measured with a Rheogel
Refractive index: Measured with a refractometer at 589 nm
Total light transmittance, haze: film thickness 10μm, measured by haze meter
Related Information
Related Products

This page has been prepared solely for information purposes.
Sanyo Chemical Industries, Ltd. extends no warranties and makes no representations as to the accuracy or completeness of the information contained herein, and assumes no responsibility regarding the suitability of this information for any intended purposes or for any consequences of using this information.

Any product information in this brochure is without obligation and commitment, and is subject to change at any time without prior notice.

Consequently anyone acting on information contained in this brochure does so entirely at his/her own risk.In particular, final determination of suitability of any material described in this brochure, including patent liability for intended applications, is the sole responsibility of the user. Such materials may present unknown health hazards and should be used with caution. Although certain hazards may be described in this brochure, Sanyo Chemical Industries, Ltd. cannot guarantee that these are the only hazards that exist