Acrylic Pressure Sensitive Adhesive (PSA) Base
"POLYTHICK"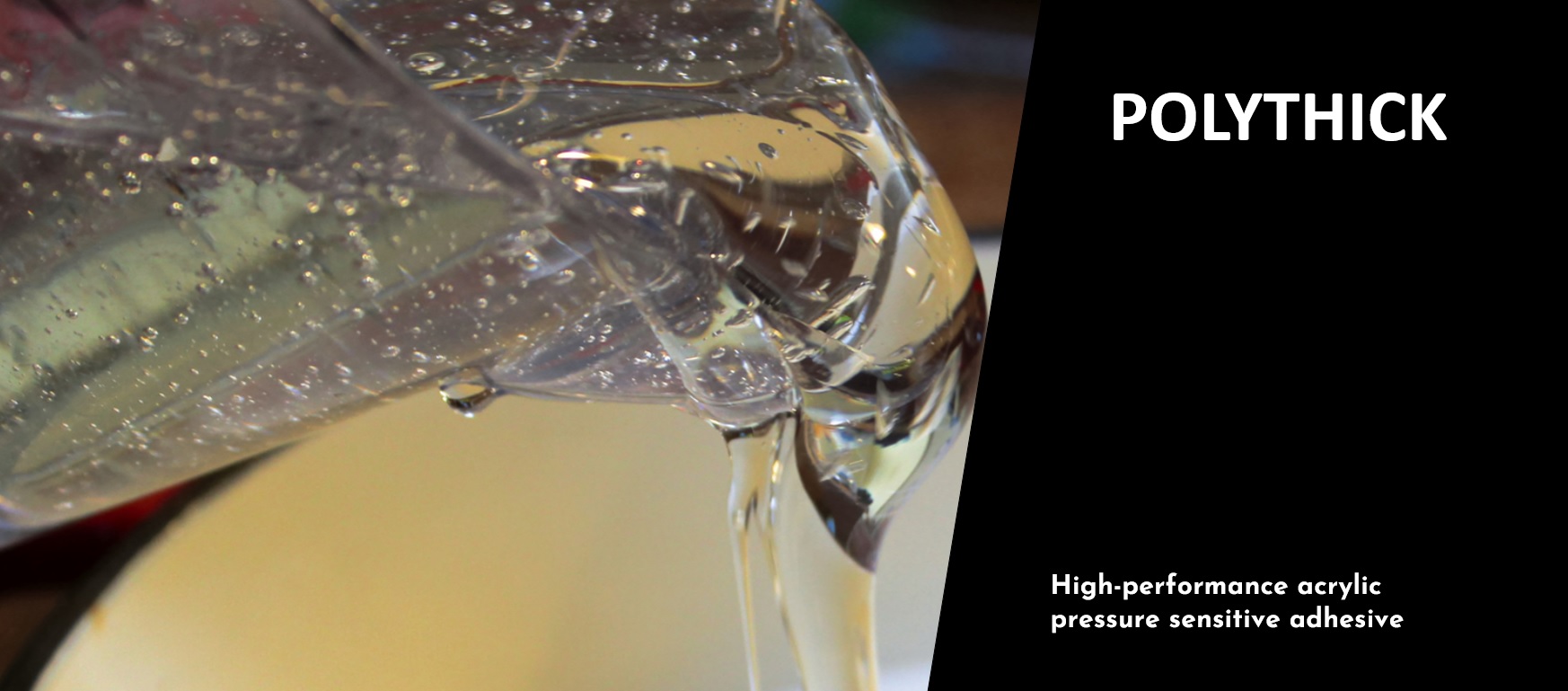 Acrylic Pressure Sensitive Adhesives(PSA) for a Wide Range of Applications from General Purpose to Optical Applications.
Environmentally Friendly Solvent-free Type is also Available.
What is Great about Sanyo Chemical's of Acrylic Pressure Sensitive Adhesive Base "POLYTHICK" Products.
1
Lineup of Acrylic Pressure Sensitive Adhesive Grades with a Wide Range of Adhesive Performance
Taking advantage of the high design flexibility of acrylic adhesives, weak to strong adhesive grades are available for a wide range of applications. It is especially suitable for general-purpose tapes and optical applications.
2
Solvent-free Grade Lineup
By selecting solvent-free products, the solvent drying process of the adhesive becomes unnecessary. The following benefits are possible.
Reduced risk of exposure to solvent vapors during handling
Costs for recovering volatilized solvents can be reduced.
The adhesive layer can be made thicker with a single coating, reducing the need for overlapping coating processes.
Typical Applications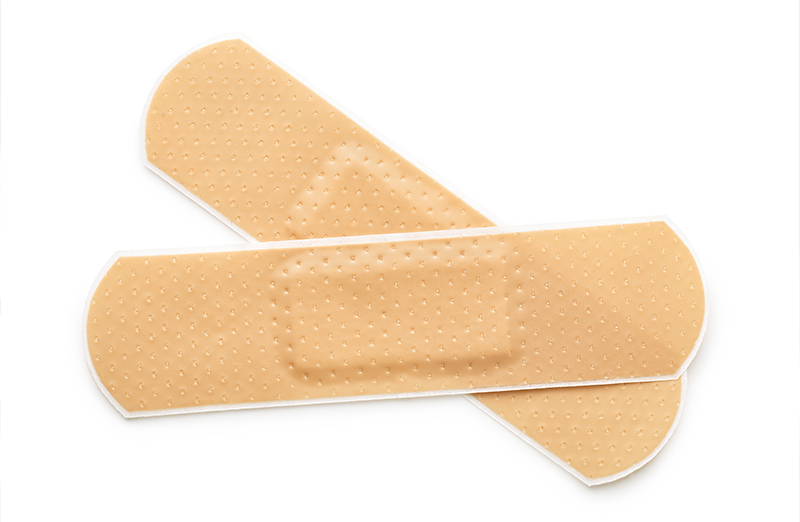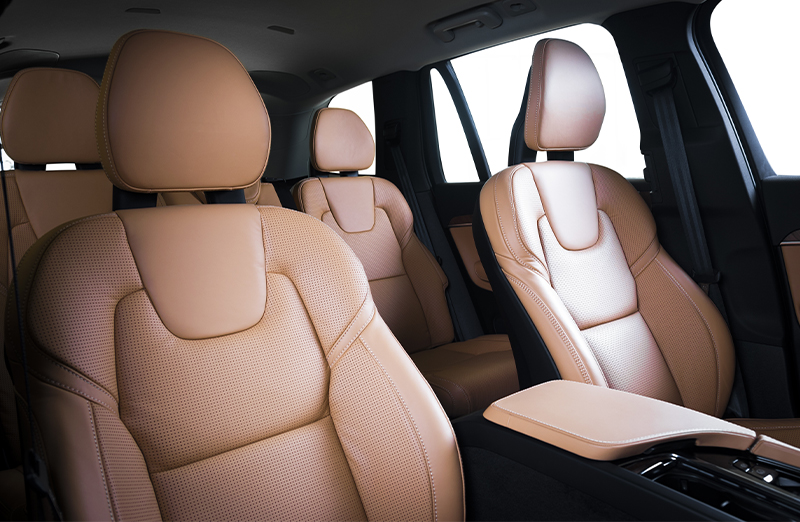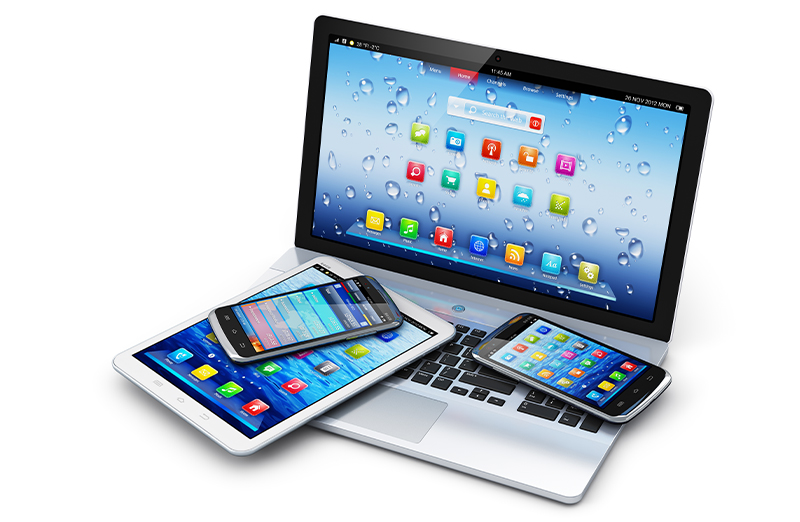 Electronics (optical applications)
Our Acrylic Pressure Sensitive Adhesive Base
about "POLYTHICK"
Adhesives are a type of bonding agent that can be quickly laminated and peeled off when necessary. Because of their convenience, adhesives are widely used in various applications and fields, including packaging, electronics, optics, automobiles, building construction materials, and medicine.
"POLYTHICK" is a main agent of acrylic adhesives. Acrylic adhesives are characterized by their wide range of design possibilities, from weak to strong adhesion.

Main Lineup of "POLYTHICK": Acrylic Pressure Sensitive Adhesives
*1 Polyisocyanate or melamine curing agents are used .
*2

Polyisocyanate curing agent [Coronate L, Tosoh Corp. ]




*3

Curing catalyst [JP-504 manufactured by Johoku Chemical Industry Co.]



POLYTHICK
310-S
POLYTHICK
410‐SA
POLYTHICK
1001‐S
POLYTHICK
AH-300
Curing Type
Two-component curable type*1
Two-component curable type*1
one-component curable type
Hot melt type
Evaporation Residual (wt%)
37
37
42
100
Viscosity (mPa・s)
7000 (30℃)
3200 (30℃)
2800 (30℃)
300000 (30℃)
Adhesion
Test
Hardener content(wt%)
1.0 *

2

1.0 *

2

0.2 *

3

-
Adhesive strength
N/25mm JIS Z 0237
16
8
1
18
Retentivity ㎜/24h JIS Z 0237
0.3
0.0
0.0
Cohesive breakdown in 30 minutes.
Ball Tack JIS Z 0237
6
14
3
6
Features

Highly adhesive grade
Suitable for acetate substrates

Medium adhesion grade
Suitable for wet surfaces and low temperature environments

Weak adhesion grade with moderate peeling sensation

High adhesion grade
Thick coating possible

Main applications
Surgical tape
Industrial use
Protective film
Electronic materials
Products in Development in the Acrylic Adhesives Base "POLYTHICK"
We have many products in development of polythick products.
Please feel free to contact us if you have any requests other than those listed below.
Solvent-free Acrylic Adhesive (Under Development)
Based on the solvent-free technology of acrylic adhesives, we are developing adhesives with additional functions.
(We can also supply the product diluted with the desired solvent.)
Adhesive that Suppresses Gelation during High-temperature Coating (Solvent-free Product)
Solvent-free adhesive that is acrylic, acid-free and suppresses thickening due to gelation at high temperatures
Intended use
Optical adhesives, etc.
Solvent Diluted Products (Under development)
Antistatic Coating Agent (Solvent Diluted)
Non-staining antistatic agent, which is a fusion of our anti-static technology and acrylic adhesive design technology, can prevent dust adhesion and sparking caused by static electricity generated when the protective film is peeled off.
Intended use
Protective films, protective materials for electronic components, packaging materials, etc.
Related Infomation
Related Products
Pressure Sensitive Adhesive
Link to Sanyo Chemical's corporate website
Technology and Application Topics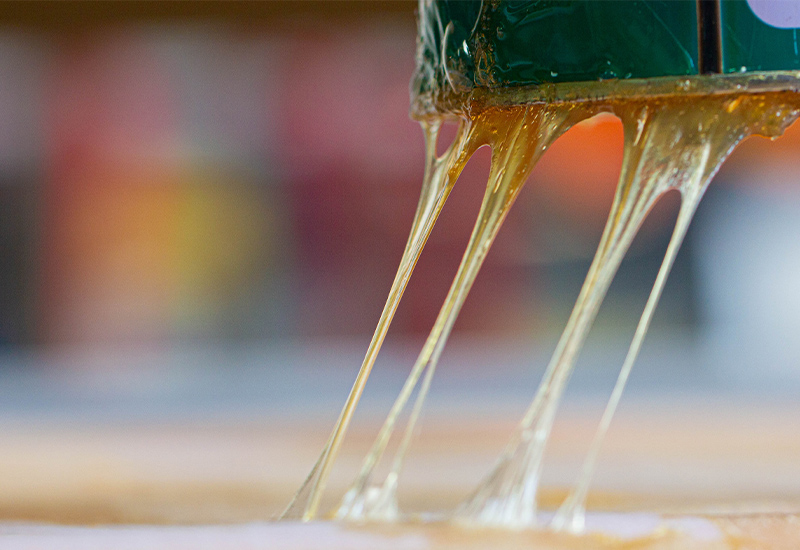 Pressure Sensitive Addhesive
Pressure Sensitive Adhesive Basics

This page has been prepared solely for information purposes.
Sanyo Chemical Industries, Ltd. extends no warranties and makes no representations as to the accuracy or completeness of the information contained herein, and assumes no responsibility regarding the suitability of this information for any intended purposes or for any consequences of using this information.

Any product information in this brochure is without obligation and commitment, and is subject to change at any time without prior notice.

Consequently anyone acting on information contained in this brochure does so entirely at his/her own risk.In particular, final determination of suitability of any material described in this brochure, including patent liability for intended applications, is the sole responsibility of the user. Such materials may present unknown health hazards and should be used with caution. Although certain hazards may be described in this brochure, Sanyo Chemical Industries, Ltd. cannot guarantee that these are the only hazards that exist