Polyether with Allyl Groups
"SANYCOL"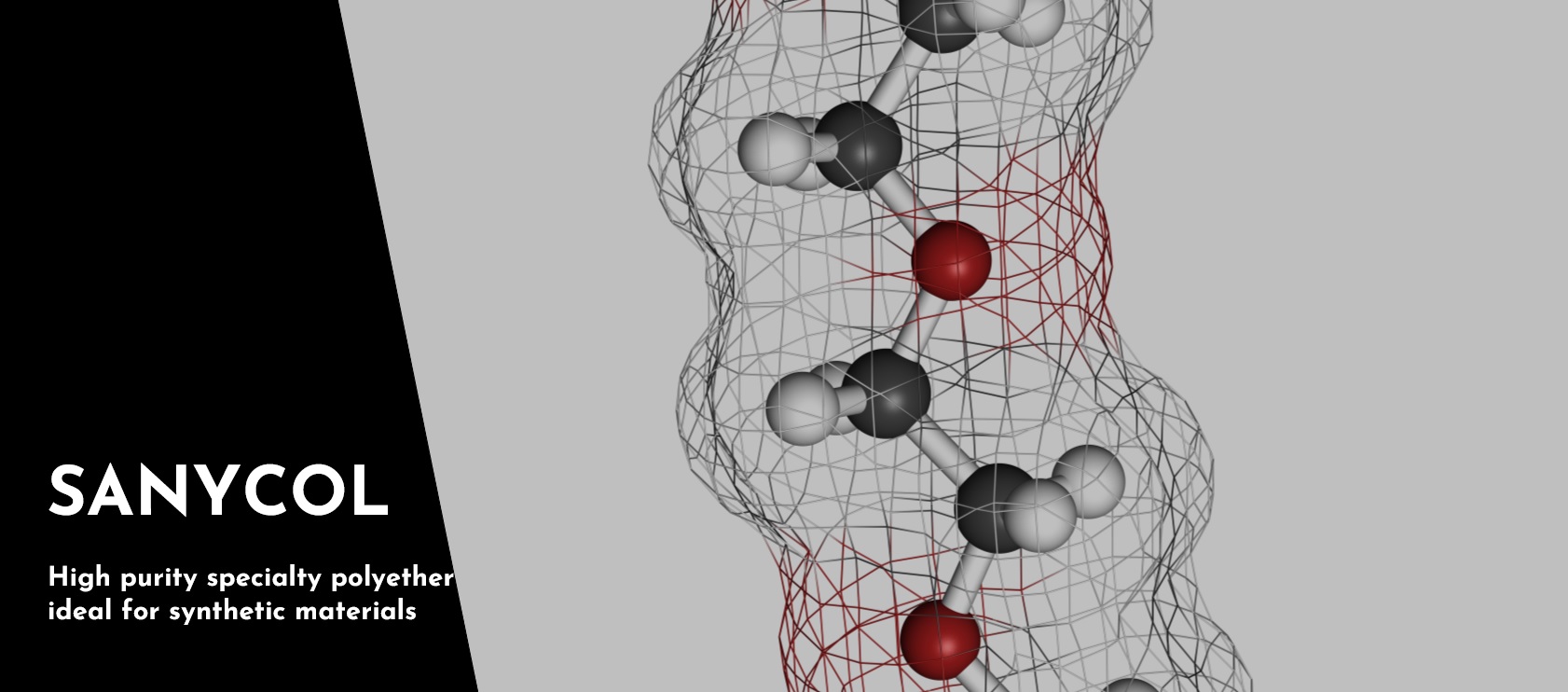 Our Synthesis and Purification Technologies have Enabled us to Achieve a High Degree of Purity, Making This Polyether Product Ideal for Use as a Synthetic Raw Material.
Sanyo Chemical's Specialty Polyether Products are Here!
"SANYCOL" Products
Our synthesis and purification technologies have enabled us to achieve a high degree of purity, making this polyether product ideal for use as a synthetic raw material.
Overview of Sanyo Chemical's Polyether Synthesis Technology
What is AOA (Alkylene Oxide Adducts)?
AOA (Alkylene Oxide Adducts) is the polymerization of an alkylene oxide (EO, PO, BO, THF, etc.) to an active hydrogen compound (alcohol, carboxylic acid, etc.). AOA (Alkylene Oxide Adducts) refers to polymers obtained by addition polymerization of alkylene oxide (EO, PO, BO, THF, etc.) to active hydrogen compounds (alcohols, carboxylic acids, etc., having active hydrogen).

Active Hydrogen Compound
(Starting Material)
Number of fucutional groups
Active hydrogen compound type
Structural formula
1
Alcohols
(long chain, short chain)
allyl alcohol
methacrylic acid
2
glycol
bisphenol
Alkylene Oxide
(Addition Monomer)
Alkylene oxide
(AO)type
AO Structural fomula
monomer
post-ring opening
Ethylene oxide
(EO)
Propylene oxide
(PO)
Buthylene oxide
(BO)
Tetrahydrofuran
(THF)
By combining each of them, polyethers with various properties can be designed.
It is a synthetic process involving high-pressure reactions, and only a limited number of manufacturers have industrialized it.
End Group Attachments
In addition, the terminal groups (hydroxyl groups, etc.) of AOA can be modified by various organic reactions to impart new resin properties, making it suitable for a wide variety of resin applications.
Reaction
attachments
end group structural formula
Characteristics
etherification
alkyl ether
Inactivation of OH group
solvent
plasticizers
allyl ether
Reactivity
Modified silicone resin
glycidyl ether
Reactivity


Epoxy resin modifier

esterification
acetyl
Inactivation of OH group
plasticizers
Acrylic(Methacrylic)

Reactivity
UV-curable resin

urethaneization
isocyanate
Reactivity
Urethane sealant resin
"SANYCOL" Products <Polyether with Allyl Group>
Main applications: Modifier for silicone
≡Si-H + Allyl AOA → ≡Si-CH2CH2CH2-(AO)nH
Purity and impurity control are important so as not to interfere with the reaction with silicone
⇒ Concentration of Sanyo Chemical's polyether synthesis & refining technologies!
Products
Structure
SANYCOL H Products
Allyl AOA
End group: hydroxy
SANYCOL M Products
Allyl AOA
End group: methyl

SANYCOL A Products

Allyl AOA
End group: acetyl
SANYCOL B Products
Allyl AOA
End group: buthyl
SANYCOL DMT Products
SANYCOL MMT Products
Related Information and Topics
Related products

This page has been prepared solely for information purposes.
Sanyo Chemical Industries, Ltd. extends no warranties and makes no representations as to the accuracy or completeness of the information contained herein, and assumes no responsibility regarding the suitability of this information for any intended purposes or for any consequences of using this information.

Any product information in this brochure is without obligation and commitment, and is subject to change at any time without prior notice.

Consequently anyone acting on information contained in this brochure does so entirely at his/her own risk.In particular, final determination of suitability of any material described in this brochure, including patent liability for intended applications, is the sole responsibility of the user. Such materials may present unknown health hazards and should be used with caution. Although certain hazards may be described in this brochure, Sanyo Chemical Industries, Ltd. cannot guarantee that these are the only hazards that exist