Permanent Antistatic Agents (Low Resistance)
"PELECTRON"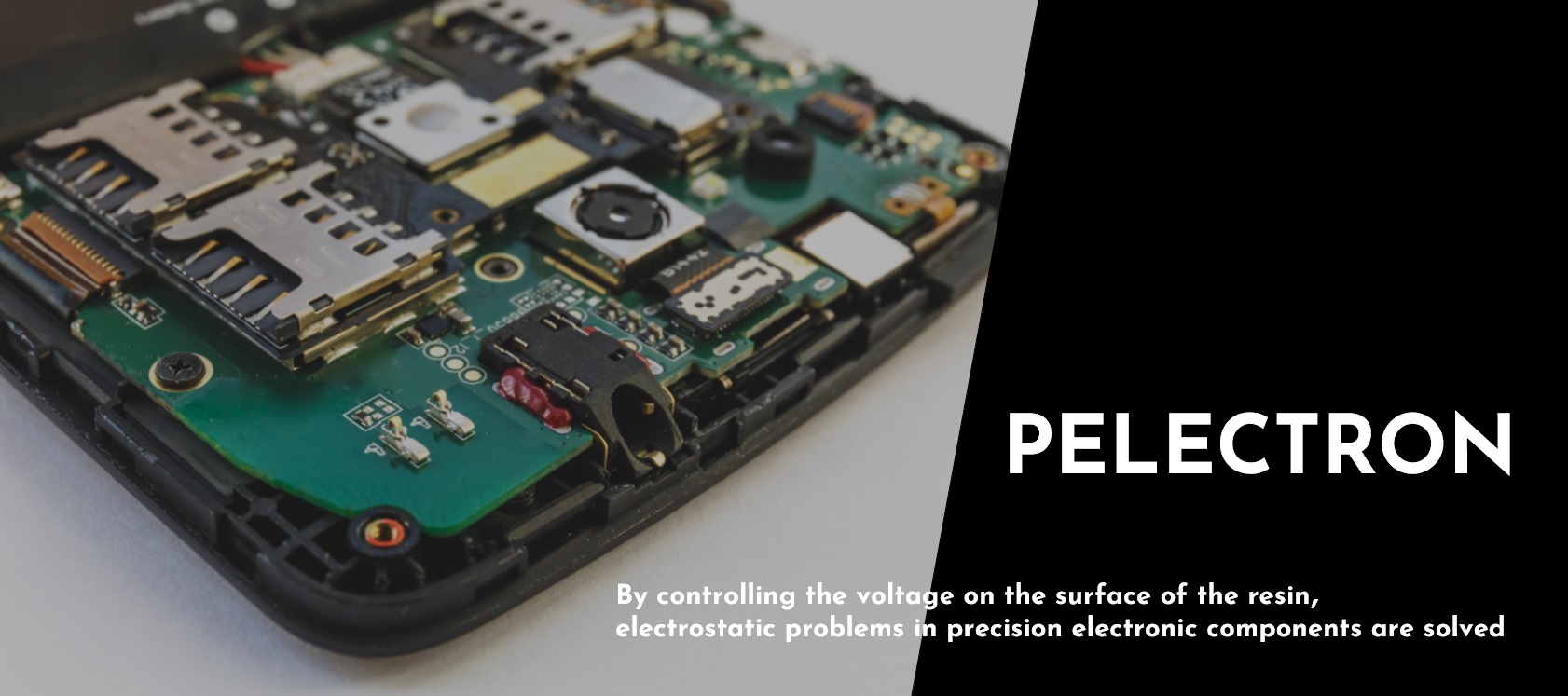 By Controlling the Voltage on the Surface of the Resin,
Electrostatic Problems in Precision Electronic Components are Solved.
What's Great about Sanyo Chemical's Permanent Antistatic Agent "PELECTRON"
"PELECTRON" is a Polymer Material with Antistatic Properties, and its Addition Solves Problems Caused by Charge Build-up between Electronic Components and Carrier materials (Trays, etc.) from the Carrier Material Side.
The band voltage can be freely controlled by the amount of additive, and the saturation band voltage of resin molded products such as transfer trays can be lowered to 50V or less.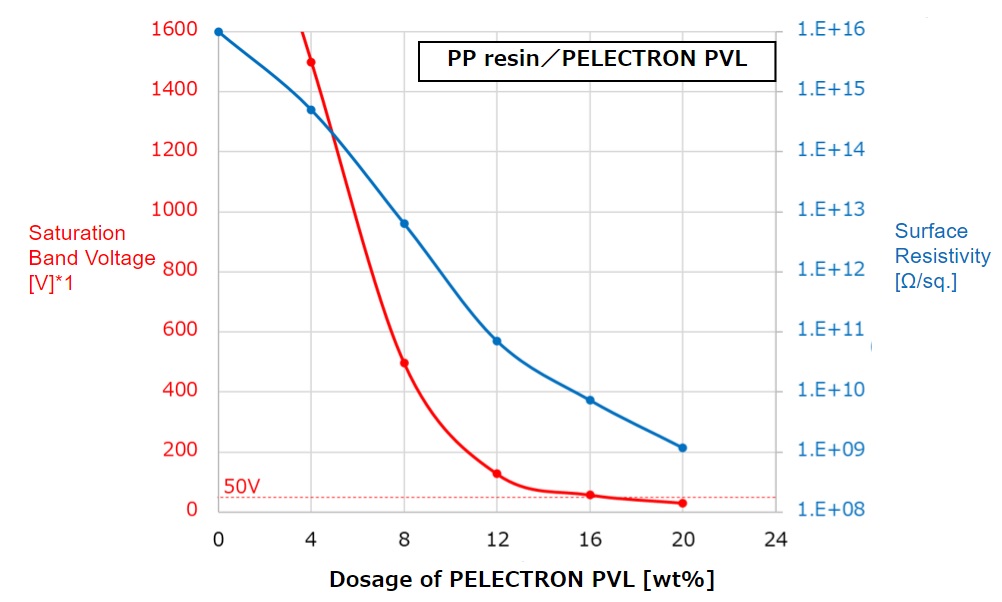 Following JIS L1094 corona charging method
Saturation band voltage with +10000V on samples (PP resin +PELECTRON PVL)
This antistatic agent is ideal for antistatic measures in clean applications where particle control is strictly required due to its low dust emission and low contamination properties.
3
Retention of Mechanical Properties
While providing an antistatic effect, it minimizes the effect on the hardness and heat resistance of the resin tray to which it is added.
Expected benefit of adding "PELECTRON": Reduced dependence on ionizers in electronic component production lines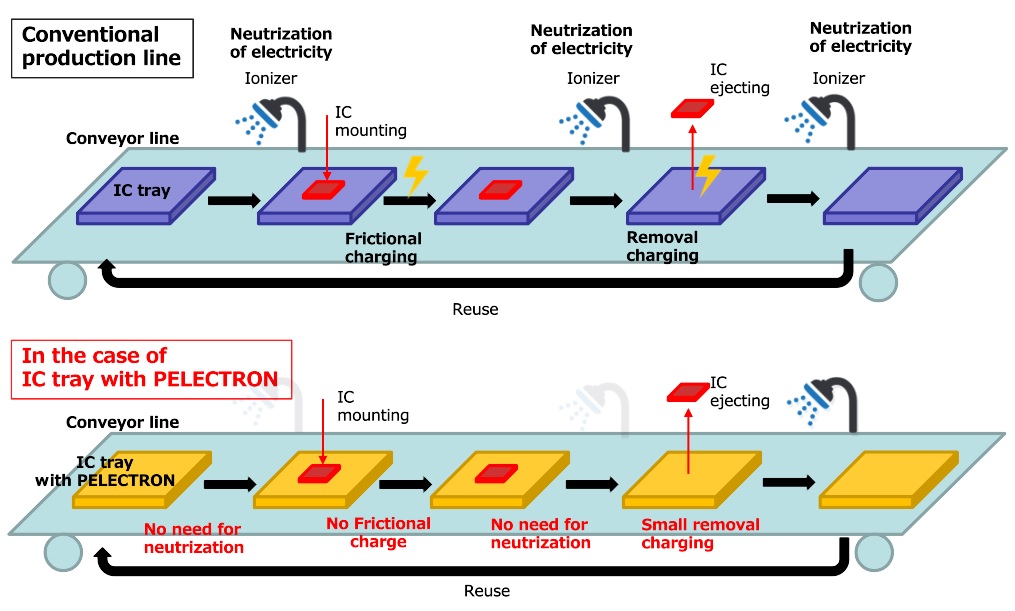 Why are Permanent Antistatic Agents Important in Transport Trays for Precision Electrical Components?
Importance of Anti-static Measures during Manufacturing and Transportation of Precision Electric Parts
The camera module market, including CMOS image sensors, is expected to continue to grow significantly, not only for smartphones, but also as key devices in automated driving technology. These precision electronic components, such as camera modules, are transported by conveyor trays, and then suckedgrabbed by robotic hands during assembly, which generates a peeling charge between the conveyor trays and the components.
If a precision electronic component such as a semiconductor device is subjected to static electricity equivalent to its breakdown voltage, the device may be damaged or destroyed.
Camera modules are becoming more precise and high value-added,high added value, and depending on the device type, the band voltage of the transport material must be kept below 50 V to prevent damage or destruction by static electricity.
Antistatic Measures and Issues
1)Static Electricity Control Issues with Ionizers
The application of ionizers as a countermeasure against static electricity can be considered, but the following issues must be addressed.
Ionization using an ionizer is performed by applying ions from the outside, which tends to cause unevenness in the static elimination area.
Due to the nature of ionizers, which apply ions from the outside, they are not good at instantly eliminating the exfoliating charge build-up between the device and the tray.

When fan-type ionizers are used, the impact of dust emissions from the fan shaft cannot be ignored, especially in production lines where cleanliness is required.
⇒Please consider using trays containing Sanyo Chemical's permanent antistatic agent "PELECTRON", which prevents dust attraction and electrostatic build-up.
2)Issues when Using Antistatic Agents
Ideally, the tray should provide static elimination and antistatic functions for materials used to transport precision electronic components, without relying too much on the ionizer alone. However, depending on the type of antistatic agent used in the tray resin and its usage, the tray itself may become a source of dust or have limited antistatic effect.
Problems in antistatic agent selection
Imparting antistatic properties by adding conductive carbon-based materials: Dust emission due to carbon particles separating from the tray cannot be ignored, and unevenness in the static elimination area is likely to occur.
Imparting antistatic properties by adding a low-molecular antistatic agent: Low-molecular antistatic agents easily bleed out from resin surfaces, causing contamination and making it difficult to maintain antistatic effects.
⇒A polymer-type permanent antistatic agent can be added to resin trays to prevent static electricity without causing the above problems and solve static electricity problems in precision electronic components.
Antistatic Comparison Chart
Permanent antistatic agent
PELECTRON

Ionizer
(DC type)
Ionizer
(AC type)
Static eliminator
Conductive to resin tray
(Prevention of static electricity)
Neutralization by air ions
Neutralization by air ions
Ionizing speed​
Good ~ Very Good
Very Good
Fair~Good
ion balance
Very Good
Fair
Good
maintainability
Very Good
Fair
Fair
"PELECTRON" gives the tray itself conductivity, so while it has a high static elimination rate, it does not reverse charge and does not deteriorate the ion balance.
It also eliminates the need for equipment setup and maintenance. We also offer a full range of technical services. ​
Comparison of permanent antistatic agent "PELESTAT"/"PELECTRON" products and carbon-based conductive materials
Permanent antistatic agent
PELESTAT・
PELECTRON
Carbon black
Cabon fiber
Conductor
ionic conduction
electron conduction
electron conduction
Surface resistivity
(Ω/sq.)
~10

9

~
~10

6

~
~10

6

~
Resistance uniformity
Very Good
Fair
Poor
Preventon of dust attraction
Very Good
Poor
Fair
Rigidity
(Flexural modulus)
Fair
Good
Very Good
Impact resistance
Very Good
Poor
Fair
Color selectivity
Very Good
Poor(black only)
Poor(black only)
Compared to carbon-based conductive materials, "PELECTRON" is superior in that it can provide a uniform antistatic effect on the surface of resin trays, is less likely to be a source of dust, and does not impair the impact resistance or color selectivity of resin trays.
6 Features of the Permanent Antistatic Agent (Low Resistance) "PELECTRON"
Sanyo Chemical's Permanent Antistatic Agent (Low Resistance) "PELECTRON" Solves Static Electricity Problems from the Conveyor Tray Side with the following Features
1
Fast Static Elimination Speed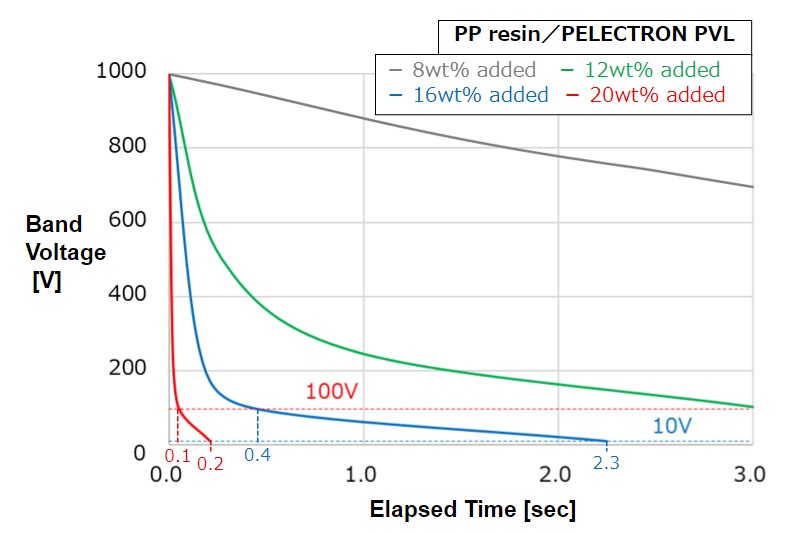 The surface of the resin tray to which PELECTRON has been added becomes lower in surface resistivity, enabling rapid static elimination even when charged.
The figure shows the attenuation behavior of the band voltage after the sample was forced up to 1,000 V using a charge plate monitor (TREK Model 158, manufactured by TREK Japan Co.
2
Polymer Structure for Good Dispersibility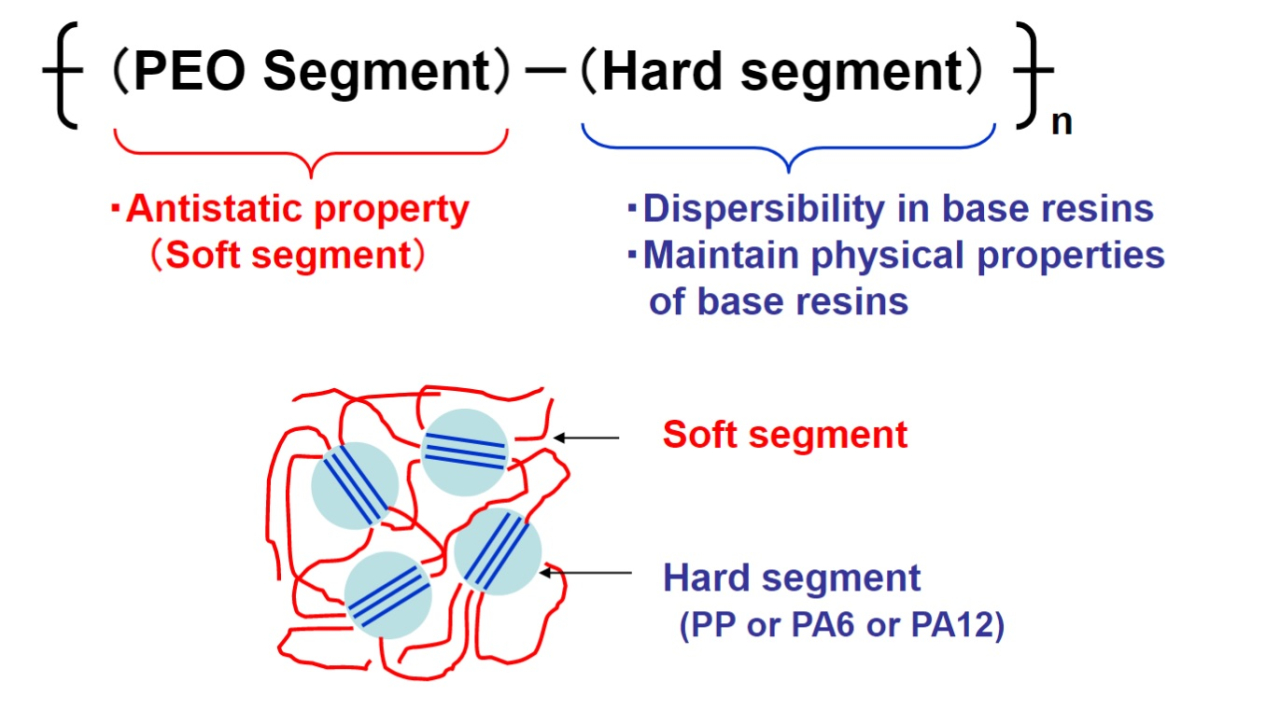 The addition of this product provides antistatic properties, and there is almost no loss of mechanical properties and moldability of resin/plastic trays.
3
Superiority over Carbon-based Conductive Materials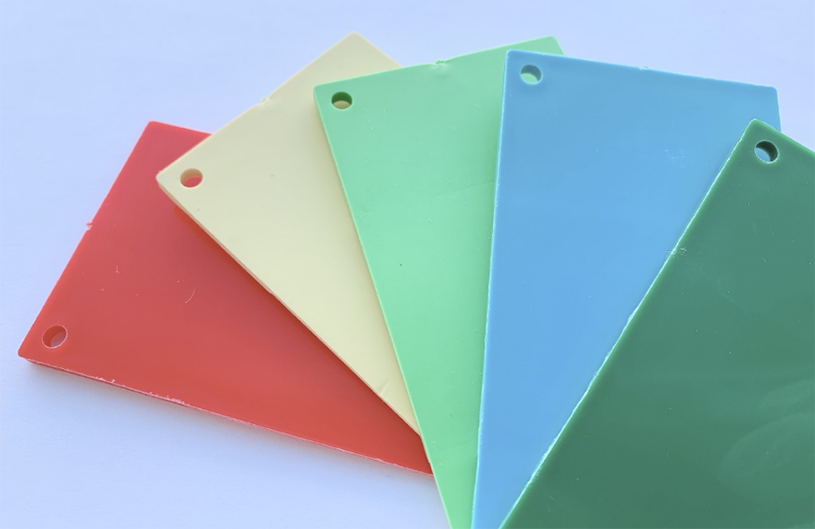 It has advantages over carbon-based conductive materials in homogeneous antistatic properties, low dust attraction , impact resistance, and color selectivity.
4
Low Humidity Dependence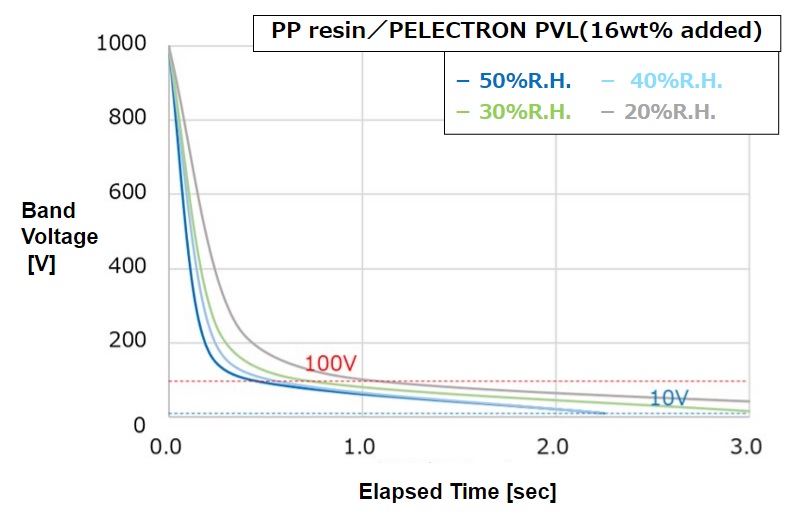 "PELECTRON" is hardly affected by humidity, and molded products retain a low surface resistivity even under low humidity conditions.
5
Low Fluctuation in Surface Resistivity from Additive Amount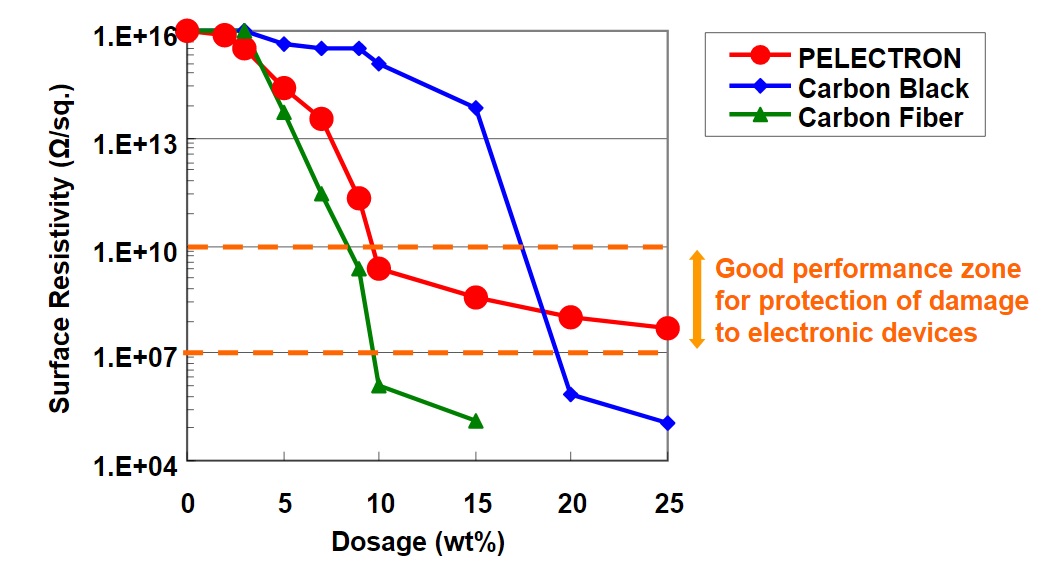 Low fluctuation in surface resistivity from additive amount making it easier to achieve the target surface resistance.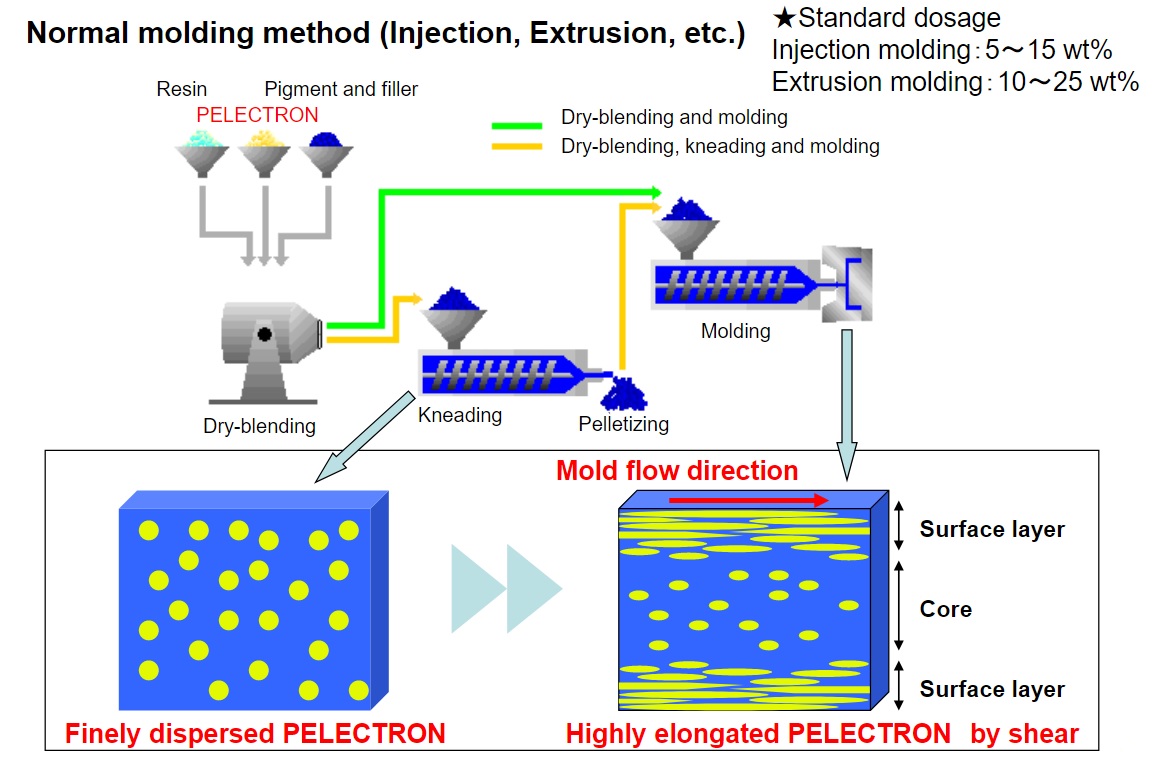 Various resin molding methods such as injection molding, extrusion molding, etc. are available. We can provide technical support based on our extensive experience.
Permanent Antistatic Agent (Low-Resistance) "PELECTRON" Main Lineup
Sanyo Chemical's permanent antistatic agent (low-resistance) "PELECTRON" products includes grades for polyolefin resin (PP, PE) and ABS resin.
*1 : Measured with an ultra-insulation meter (23ºC, 50% R.H.) after making an injection-molded plate containing PELECTRON only.
No.1​
PELECTRON PVL​
No.2​
PELECTRON AS
Appearance
Light yellow pellets
Light yellow pellets
Melting point (℃)​
135​
195​
MFR (g/10min)​
15​
(190ºC, 21.18 N)​
30​
(215ºC, 21.18 N)​
Surface resistivity

*1

(Ω/sq.)​
3×10

6​

4×10

6​

Target resin​
PP、PE etc.
ABS, PC/ABS, ​
PC, Nylon etc.
Features
Low resistance type
(mainly for extrusion molding)
Low Resistance Type
Low ion elution
(mainly for injection molding:
good compatibility with styrene resins)
PP Resin / "PELECTRON PVL" (Injection Molding)
Relationship between the Amount of Additives, Saturation Band Voltage, and Surface Resistivity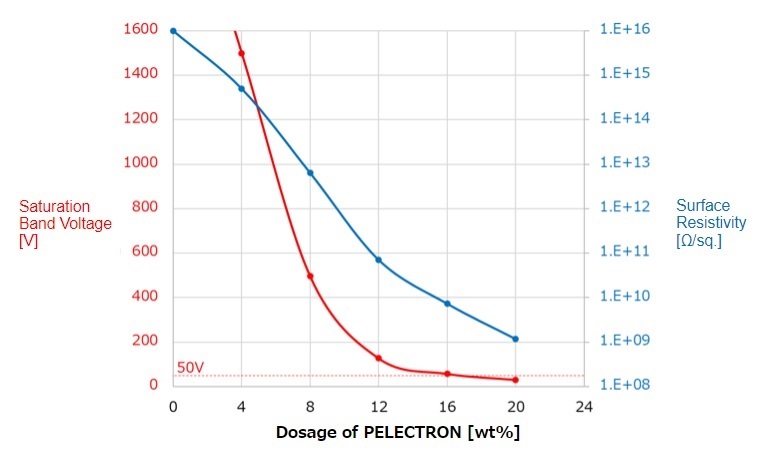 ABS resin / "PELECTRON AS" (Injection Molding)
Relationship between the Amount of Additives, Saturation Band Voltage, and Surface Resistivity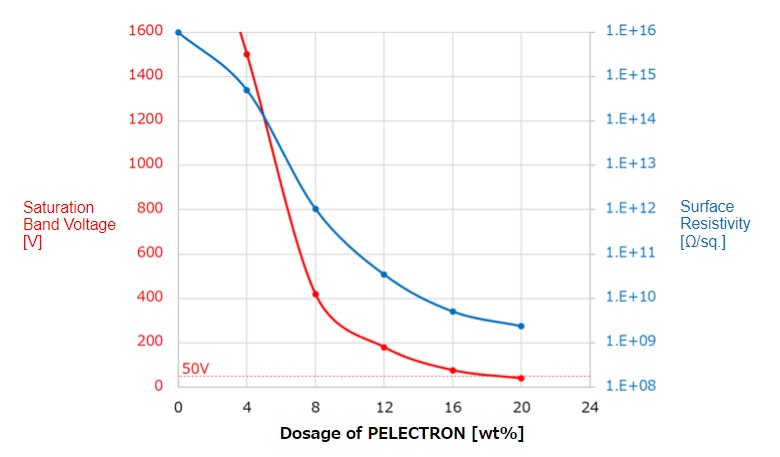 Permanent Antistatic Agent (Low-resistance) "PELECTRON" Examples of Application
We have a proven track record of adoption as a carrier material (trays, carrier tapes, packaging materials) for various electronic components and other products.
PP plastic vacuum-formed LCD module transfer tray
Transparent ABS resin embossed carrier tape
PP resin IC chip transfer tray
LDPE resin packaging materials for electronic components
Etc.
Technology and Application Topics
Related Product
Link to Sanyo Chemical's corporate website

This page has been prepared solely for information purposes.
Sanyo Chemical Industries, Ltd. extends no warranties and makes no representations as to the accuracy or completeness of the information contained herein, and assumes no responsibility regarding the suitability of this information for any intended purposes or for any consequences of using this information.

Any product information in this brochure is without obligation and commitment, and is subject to change at any time without prior notice.

Consequently anyone acting on information contained in this brochure does so entirely at his/her own risk.In particular, final determination of suitability of any material described in this brochure, including patent liability for intended applications, is the sole responsibility of the user. Such materials may present unknown health hazards and should be used with caution. Although certain hazards may be described in this brochure, Sanyo Chemical Industries, Ltd. cannot guarantee that these are the only hazards that exist