Definition and Classification of Wax
Wax is a generic term for a wax-like substance, which is defined as "(1) solid or semi-solid at room temperature, with a melting point of 40°C or higher, and (2) melting without decomposition when heated and of low viscosity.
Waxes are composed of various raw materials and can be broadly classified into natural waxes, semi-synthetic waxes, and synthetic waxes.
Features and Classification of Synthetic Waxes
Waxes have a wide range of applications and are used as raw materials or additives for many industrial products and daily necessities such as cosmetics, printing inks, tires, flooring, and adhesives.
Synthetic waxes are widely used as industrial raw materials for paints, inks, adhesives, etc., because they are relatively easy to control in terms of composition, melt viscosity, and other properties, and can meet a wide variety of needs.
Synthetic waxes can be classified into a polymerization type or pyrolysis type based on the manufacturing method. Polymerization type includes monopolymerization of ethylene monomers and modified low molecular weight polyethylene copolymerized with ethylene and other polar monomers. The pyrolysis type is a low molecular weight product made by radical decomposition of high molecular weight polyethylene resin or polypropylene resin.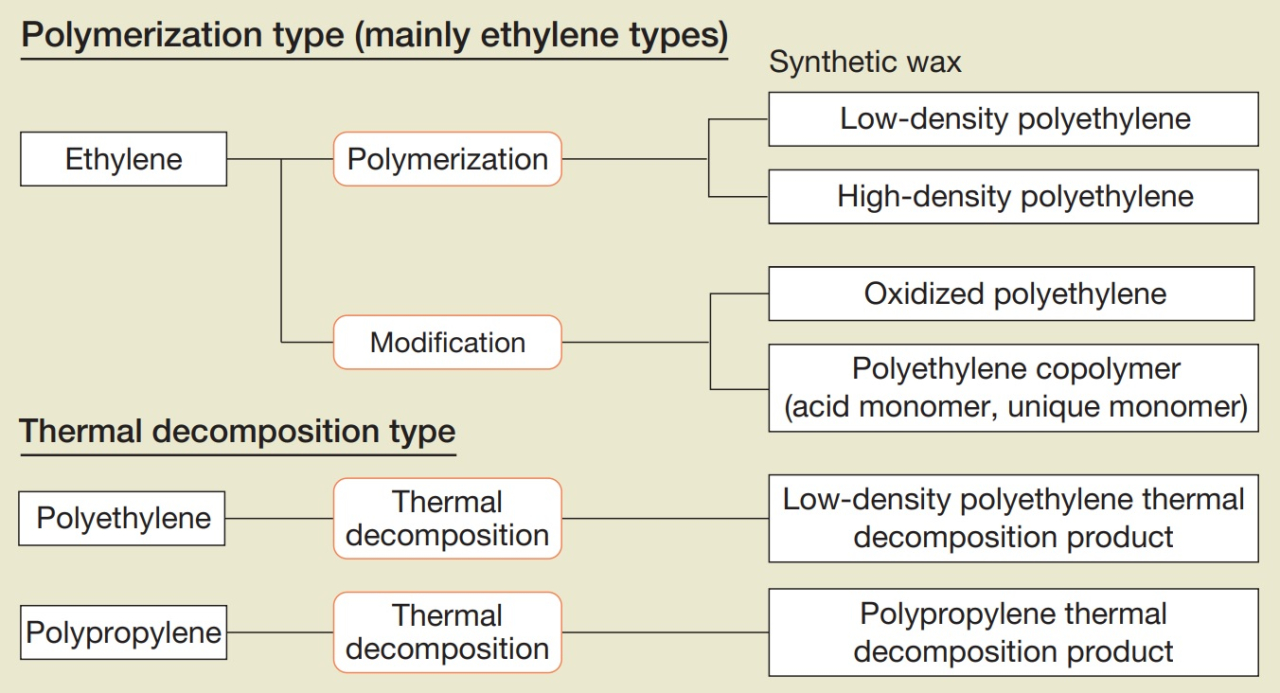 Characteristics of Synthetic Waxes

Structural Characteristics of Polymerized and Pyrolytic Waxes
Manufacturing method
Pyrolysis type
(our product)
Polymerization type
(high pressure)
Polymerization type
(low pressure)
Molecular weight distribution
Mw/Mn
Broad
Narrow
Broad
Spatial structure
Contains long-chain branching
Contains short-chain branching
(usually methyl group)
Contains long-chain branching
Our Main Lineup of Polyethylene and Polypropylene Waxes
We manufacture and sell the low molecular weight polyethylene "SANWAX" series, which was the first synthetic wax to be successfully industrialized in Japan, and the low molecular weight polypropylene "VISCOL" series, to which we applied this technology.
Features of the SANWAX and VISCOL
High softening point and high crystallinity compared to natural waxes.
Excellent compatibility with polyolefin resins.
Wide molecular weight distribution due to the thermal decomposition process.
Easily compatible with resins other than polyolefins.
The industrial process of pyrolysis is also more suitable for small-lot production in comparison to polymerization-type industrial process, and can be finely tailored to various needs.
Main Lineup of Polyethylene Wax "SANWAX" Products
SANWAX
161‐P
SANWAX
131-P
SANWAX
151-P
SANWAX
171-P
Features
High molecular weight
Medium to high
molecular weight
Small to low
molecular weight
Low molecular weight
Appearance
White powder
White powder
White powder
White powder
APHA color
30
30
30
30
Melting point
(℃)
103
102
101
100
Melt viscosity
(mPa・s)
4300
1000
290
180
Molecular weigh
(Mw)
27000
20000
13000
10000
Main applications
Pigment dispersants, filler dispersants, flow improvers
Test Method
APHA color : Hasen method, Melting point: DSC method, Melt viscosity: 140°C, Molecular weight: High temperature GPC method
Main Lineup of Polypropylene Wax "VISCOL" Products


VISCOL
330‐P
VISCOL
440-P
VISCOL
550-P
VISCOL
660-P
VISCOL
LM-500
(Development product)
VISCOL
LM-600
(Development product)
Features
High molecular weight
Medium to high
molecular weight
Small to low
molecular weight
Low
molecular weight

High molecular weight
Low melting point

High molecular weight
Low melting point

Appearance
White powder
White powder
White powder
White powder
Light yellow powder
Light yellow powder
APHA color
200
200
200
1
1
1
Melting point(℃)
145
144
139
136
125
119
Melt viscosity
(mPa・s)
4000
1800
200
70
1400
100
Molecular weight
(Mw)
40000
27000
13000
10000
30000
9000
Main application
Pigment dispersants, filler dispersants, flow improvers
Test Method
Color number: Hazen method (*Gardner method), melting point: DSC method, melt viscosity: 160°C (*140°C), molecular weight: high temperature GPC method